please contact me at 416.805.6556
or email nancy@seastarimages.com
Born in Ajax, Ontario, I grew up in a household where art and creativity were always encouraged. I credit my father Wayne Moore, a retired artist living in Bobcaygeon, Ontario, with giving me a solid foundation with which to build on.
Since 1997 I've been the co-owner of Seastar Images Inc., a graphics company located in Ajax, and although I'm is still involved in graphic design industry my passion has always been in fine art.
As an artist I feel incredibly fortunate to be able to paint and draw without boundaries. My style is largely experimental with an emphasis on landscape and figure abstraction. I never set out to replicate an image but instead stove to convey a mood or evoke an emotion using loose lines, rich textures and bold colours.

I particularly love life drawing and feel that, along with portraiture, it is my biggest challenge as an artist. I enjoy experimenting with different mediums working mostly in acrylics
My first show in the area "Paintied Ladies" was in 2013 at Impressario Market in Cobourg.
My next solo show was in 2014 called "Moments and Destinations". It was held at the
Kent Farndale Gallery in Port Perry, Ontario. Next, in 2014, I was invited to participate in "Connections", a 5 artist
show in the Distillery District, Toronto. In 2017 I will be showing again, for the third year, at the Artist Project held in the Better Living Centre, Exhibition Place, Toronto. I continue to show at A Gift of Art in Newcastle and participate in the local Northumberland Studio Tour.
Here is an article found in the Durham Star for
"Moments and Destinations" Art Show & Sale - April 2014
Variety the spice of life for Clarington artist
Nancy Moore showing in Port Perry in April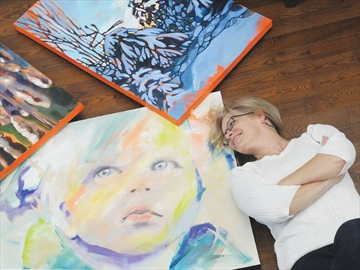 Moments and Destinations
Jason Liebregts / Metroland
NEWTONVILLE -- Newtonville artist Nancy Moore has a solo show, Moments and Destinations, at The Kent Farndale Gallery in Port Perry. It runs April 5 to May 1 and there's an opening reception April 5 from 2 to 4 p.m. March 30, 2014
DURHAM -- Nancy Moore lives on the edge -- of Durham, that is.
The artist and designer lives in Newtonville, at the eastern end of the region in Clarington. For the most part, she has naturally looked east and north in terms of her involvement in the arts, including taking part in the Northumberland studio tour.
But she wants to start showing her art in Durham and you can see her work at Moore's Moments and Destinations show, running from April 5 to May 1 at the Kent Farndale Gallery in Port Perry.
A look at her website reveals that Moore likes variety. She works in oil, acrylic, pen and ink and is branching out and experimenting with other media as well. And her subject matter is wide-ranging as well.
"I get bored doing the same thing over and over again," she says. "I'll do a portrait and then scenery and then work on a figurative abstraction piece."
She's done one mixed-media piece and is planning another, since Moore says the first sold immediately.
Abstraction is "totally new to me," but perhaps another route she'll take in the future since, entered in a juried show in Cobourg, she sold a piece "right off the wall." And after it had a "sold" sign on it, she had a lot of inquiries about the piece.
Moore has an excellent website/blog and there's interactivity. She posts "teaser" pieces she's made, lately some of the works that will be in her Scugog show. And she asked viewers their opinion: should she post her new work on the website or wait until the Farndale show?
A question she asked herself in relation to the Port Perry show was, mix of old and new work or just new? Moore says she will be showing virtually all new works, with roughly half of the show devoted to people and the other half to landscapes.
Born and raised in Ajax, Moore was always encouraged to make art by her parents, including her father, Wayne Moore, a retired artist who lives in Bobcaygeon. She started drawing as a child and, by the time she reached the early years of high school, her mom's friends would ask if she could paint their cottage, for example. She would sometimes receive $50 for such a piece, quite a payday for a young person.
But her parents did want her "to find a job that will pay you" and Moore became a graphic designer.
She does life-drawing, noting she and other artists in her area will go in together on a model. And while she likes working with a live model, Moore says it's "taxing" for the model to sit for a lengthy time period. So she'll make sketches at the session and create paintings later.
Also on her lengthy wish list are working in glass and, in the near future, a possible collaboration with an artist who works in stone.
Moore doesn't see her artistic restlessness as a problem -- quite the opposite.
"I'm all over the place but I never have a shortage of things to paint," she says.
The Kent Farndale Gallery is in the Scugog Memorial Public Library, 231 Water St., Port Perry.
There's an opening reception on April 5 at 2 p.m.
Visit her website, nancymoore-artist.blogspot.ca.
Past Exhibitions:
The Northumberland Hills Studio Tour,
Northumberland including Cobourg & Port Hope
Sept. 10th - 11th 2016, (annually)
10am to 5pm
www.northumberlandstudiotour.com
,
A Gift of Art,
Upstairs Gallery, 187 King Ave. Newcastle
April 3rd - May 14th, 2016
www.agiftof-art.com
,
The Artist Project Toronto,
Better Living Centre - Exhibition Place
February 18th - 21st, 2016
www.theartistproject.com
,
Reversion @ Super Wonder Gallery
876 Bloor St. West, Toronto
October 9th - 14th, 2015
Opening Reception: December 7th @ 2pm
www.cantine.ca
,
The Northumberland Hills Studio Tour,
Northumberland including Cobourg & Port Hope
Sept. 12th - 13th 2015,
10am to 5pm
www.northumberlandstudiotour.com
,
CONNECTIONS
Artagallery
The Distillery District, Toronto
Feb 12 - 22nd, 2015
www.artagallery.ca
,
The Artist Project Toronto,
Better Living Centre - Exhibition Place
February 19th - 22nd, 2015
www.theartistproject.com
About E. DARBY MOORE:
The attached are scanned pages which my great uncle, Francis Ernest Moore
wrote about his father, E. Darby Moore (my great grandfather).
I didn't want to lose this information so I decided to put it on my blog.
Here is a link to a pdf of a program for the 41st annual art show run by the Ontario Society of Artists. The date was April 1913.
My great grandfather, E. Darby Moore was included along with other familiar names from the Group of 7 along with
their home addresses!
If anyone has any information or details about my family and/or pictures of them and/or of their artwork
I would love to hear from you.
..........................
Received via email Feb. 08, 2015
Ms. Moore,
I have attached a copy of a painting I have had in my possession for close to 30 years now.
It was a gift of the Beemer family who had association with the Scott's of Clyffe House in Port Sydney Ontario.
It has always been a favorite of mine and it was only today that I finally found information on the artist. I always suspected the group of seven connection as the Scott's had many guests at the lodge over the course of over a century and many were prominent artists.
I love this painting with all my heart.
It is still in its original frame and measures 12 x 18 ¾ inches. Seems to be on a sized burlap or other coarse material on board. The texture is what makes it seem special to me.
Tom Spivak
This painting (by Darby Moore) is of a church in Oakville... I would love to know the name.
(see below)
Saint Andrews Catholic Church
Thanks Sandra for sending me this photo!
"Harry Brabson"
Water Colour
E. Darby Moore
Extra SOLD pieces, ARCHIVE
Forest in the Fall Diptych
2 @ 36" x 24"
Acrylic on Canvas
5th Line
36" x 24"
Acrylic on Canvas
Autumn Web
36" x 24"
Acrylic on Canvas
Looking Up Through the Trees
30" x 40"
Acrylic on Canvas